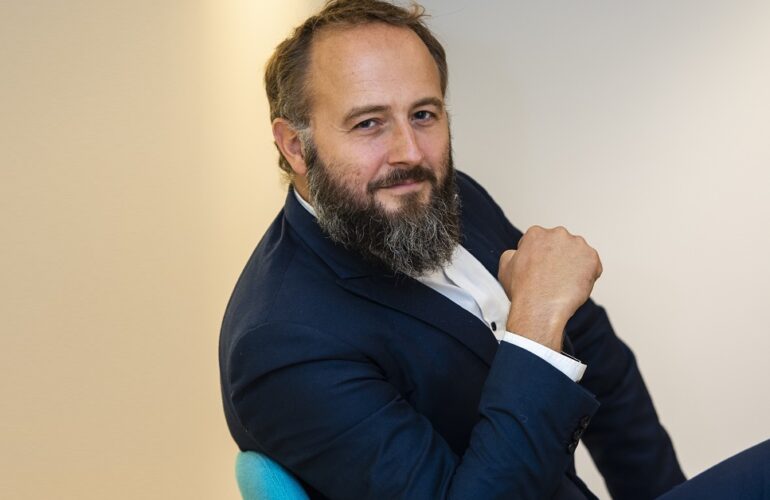 During Earth Month, our main theme is Renewable Energy, and we want to highlight how Engineering & Design Automation can be beneficial in this industry. This is a crucial time for the future of our planet, and by using EDA, companies can find better ways to produce products and processes that are more sustainable. Our goal is to collaborate and help companies achieve their sustainability objectives.  
 With that in mind, we invited Gösta Schwarck, Senior Partner and COO of Scandinavian Digital for an incredible chat about how EDA (Engineering & Design Automation) can help reduce the global carbon footprint.
Q: Can you start explaining how EDA has this power?  
COO of Scandinavian Digital: Absolutely. Engineering & Design Automation is a process that involves using software tools to automate the engineering process. By using Scandinavian Digital's proprietary AI algorithms and linking this to CAD and PLM systems, a product or system's performance is engineered under various conditions and engineers can output billions of different configurations of very complex equipment designs. Optimisation parameters typically target ideal process performance or optimal fit-for-purpose but lately a specific focus has been to output the most energy-efficient products and systems. This can ultimately help reduce the global carbon footprint. 
Q: That sounds promising. Can you give a specific example of how engineering & design automation has helped reduce carbon emissions in practice? 
COO of Scandinavian Digital: Sure. Last year we worked on a large drying chamber for the food and pharmaceutical industry, where we were able to optimize the design to reduce waste. By using engineering & design automation tools, we were able to avoid the repetitive waste of a surface area corresponding to 50 m2 on average for each order of this equipment. As the equipment was always made of 3 mm stainless steel sheet metal the total mass of this surface area was 1.2 tons or 24 tons annually. In our calculations of emissions, we included both Scope 1 and Scope 2 and we computed the saved carbon footprint to 141 thousand CO2e – each and every year for this product alone!  
Q: That's impressive! Would you have more examples? 
COO of Scandinavian Digital: Certainly! We are currently working on a project for a large customer in the offshore wind turbine generator industry. This particular task is different from other typical engineering design automation assignments, as the customer simply wants to make use of our advanced AI optimisation algorithms to have an optimal layout of the different elements that make up the entire offshore production platform. Not only can our AI algorithms do this, but we have also proven a reduction of roughly 3% in the weight of the entire platform. This might not sound as much but would actually result in a reduced carbon footprint of 450 thousand tons CO2e – for each of the platforms. And there are more than 20 platforms in this Wind Farm…!
 
Q: It seems that engineering design automation really has an environmental impact!  
COO of Scandinavian Digital: Yes definitely! And I truly believe that the full environmental impact of our projects is even larger than what we typically think. 
Q: Would you mind elaborating on that? 
COO of Scandinavian Digital: By using the same configured 3D model throughout the entire supply chain, from design to commissioning, we can ensure that the product is right the first time and avoid the need for rework. This can help reduce the amount of energy and materials needed to produce the product, ultimately reducing carbon emissions. 
Q: Can you tell us more about the benefits of Engineering  & Design Automation beyond reducing carbon footprint? 
COO of Scandinavian Digital: Certainly. One of the main benefits is that it reduces lead-time by up to 88%, which allows companies to respond faster to customer needs and stay ahead of their competitors. Additionally, companies that implement Engineering Design Automation often see a 25-30% increase in sales after three years, as customers tend to buy more from a supplier that is now literally open 24/7. 
Another benefit is the reduction in the cost of poor quality (COPQ). By implementing Engineering & Design Automation, companies can reduce the number of claims, rework, incidents, and errors, which can lead to a COPQ reduction of 50-65%. 
Companies also benefit from a reduction in the hours spent on order execution and the preparation of customer quotations, with a typical reduction of 75-90%. This frees up time and resources for other important business activities, such as innovation and product development. 
Finally, there is typically a 5-10% reduction in the cost of goods sold (COGS) due to the optimization of designs. The reduction in material waste achieved in the design of the large drying chamber we mentioned earlier is part of this COGS reduction. 
Q: It sounds like there are many benefits to implementing Engineering & Design Automation beyond just reducing carbon footprint. Can you tell us more about how the software works to achieve these benefits? 
COO of Scandinavian Digital: Our software uses algorithms and machine learning to optimize designs and prevent errors and rework. By creating 3D models that can be used throughout the entire supply chain until commissioning, we can reduce lead time and avoid rework. Additionally, our software searches for improvements in manufacturing and transportation processes and can also lead to cost savings. 
Q: Are there any challenges to using engineering & design automation tools? 
COO of Scandinavian Digital: Yes, there are challenges, such as the need for specialized skills and knowledge. However, the benefits can be significant. Simulation tools allow engineers to model how a product or system will perform under different conditions and optimize it for maximum efficiency. This can result in products that use less energy or materials, which can ultimately reduce carbon emissions. Additionally, engineering design automation tools can help reduce the need for physical testing, which can save time and resources. 
It's exciting to see how technology, such as Engineering & Design Automation, can help address environmental challenges like reducing our global carbon footprint. At the Scandinavian Digital Team, sustainability is a top priority for all our client projects, alongside numerous other benefits. If you're interested in learning more, please don't hesitate to contact us. We'd be delighted to inspire you in a brief meeting.